Regular price
Sale price
$4.00 USD
Unit price
per
Save 25%
Sold out
This is a digital download and NOT a physical product!
Build, launch and land your own brick-built Falcon 9 Block 5 model!

Standing 64 cm (25 in) tall, the Falcon 9 model is built at 1:110 scale, the same scale as the official LEGO® Saturn V set! It's designed to be very detailed and scale-accurate in everything from the exterior dimensions to details, while keeping the piece price relatively affordable. The default model includes both the payload fairing and Crew Dragon capsule and contains 506 pieces costing approximately $55, for which you can find an easy guide to buying in one of the tabs below. The digital building instructions you'll receive after your purchase are high-quality and easy to follow, even for less experienced builders.
The model features:
Accurate staging, with a separatable first and second stage.

Crew Dragon capsule, with its separable trunk and an included removable heat shield. Or choose...

...the standard payload fairing, which can house a payload of your choice inside [coming soon].
Deployable grid fins and landing legs, with deployment arms that can be added to display the landed first stage.
A sooty flight-proven variant. See the "Variants" tab below for more info.

A sturdy construction with axles and bars as internal supports allowing for easy handling and light play.
View full details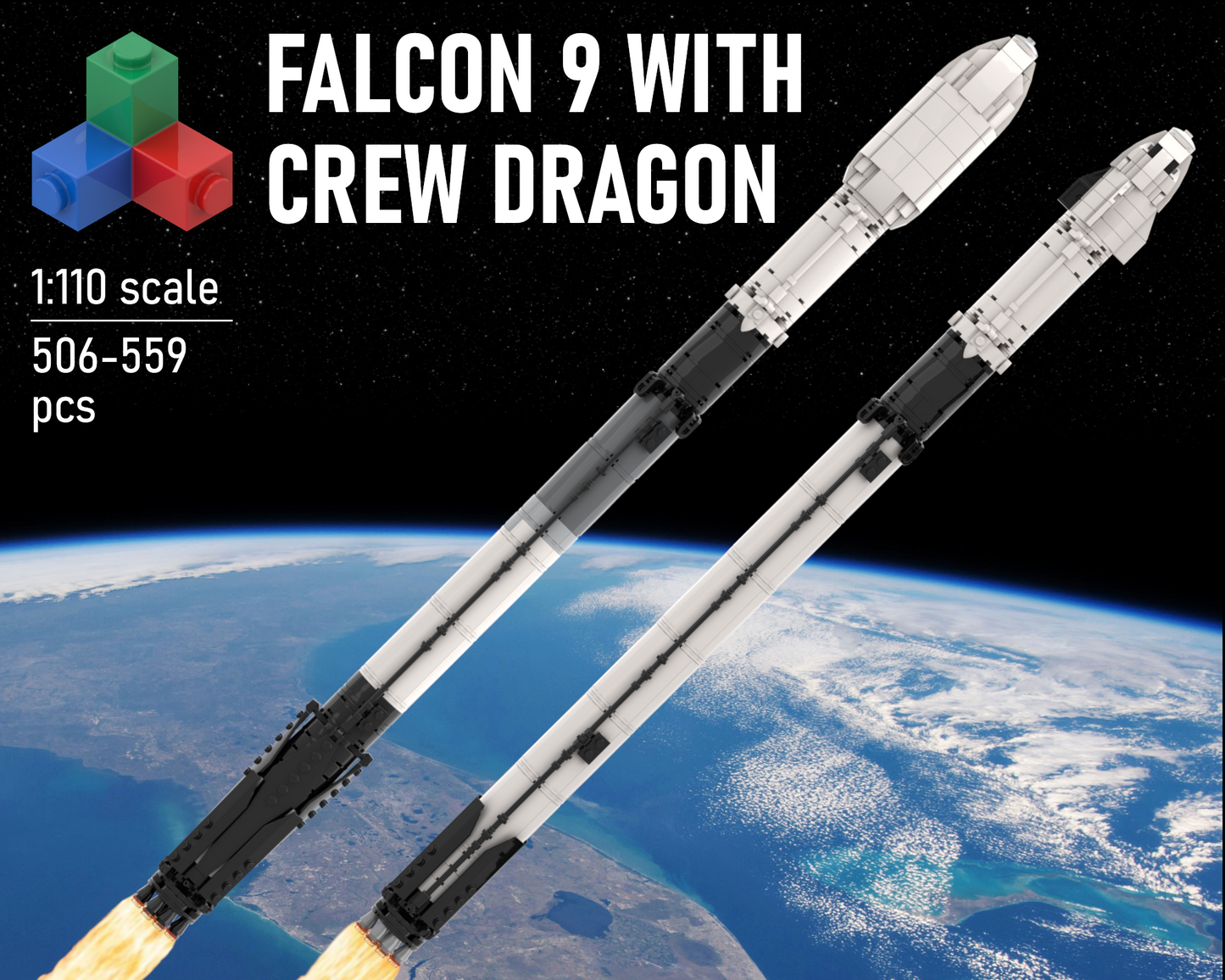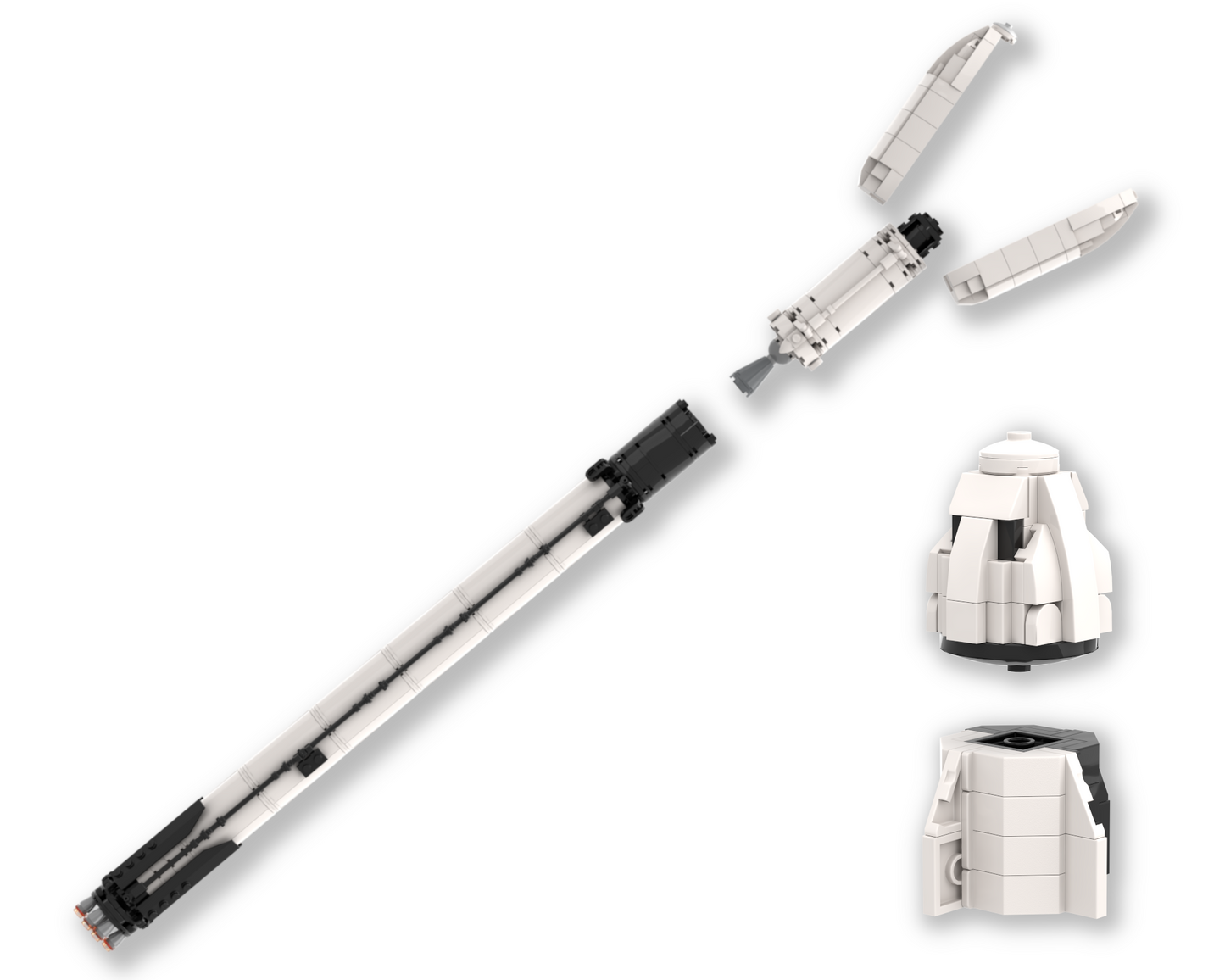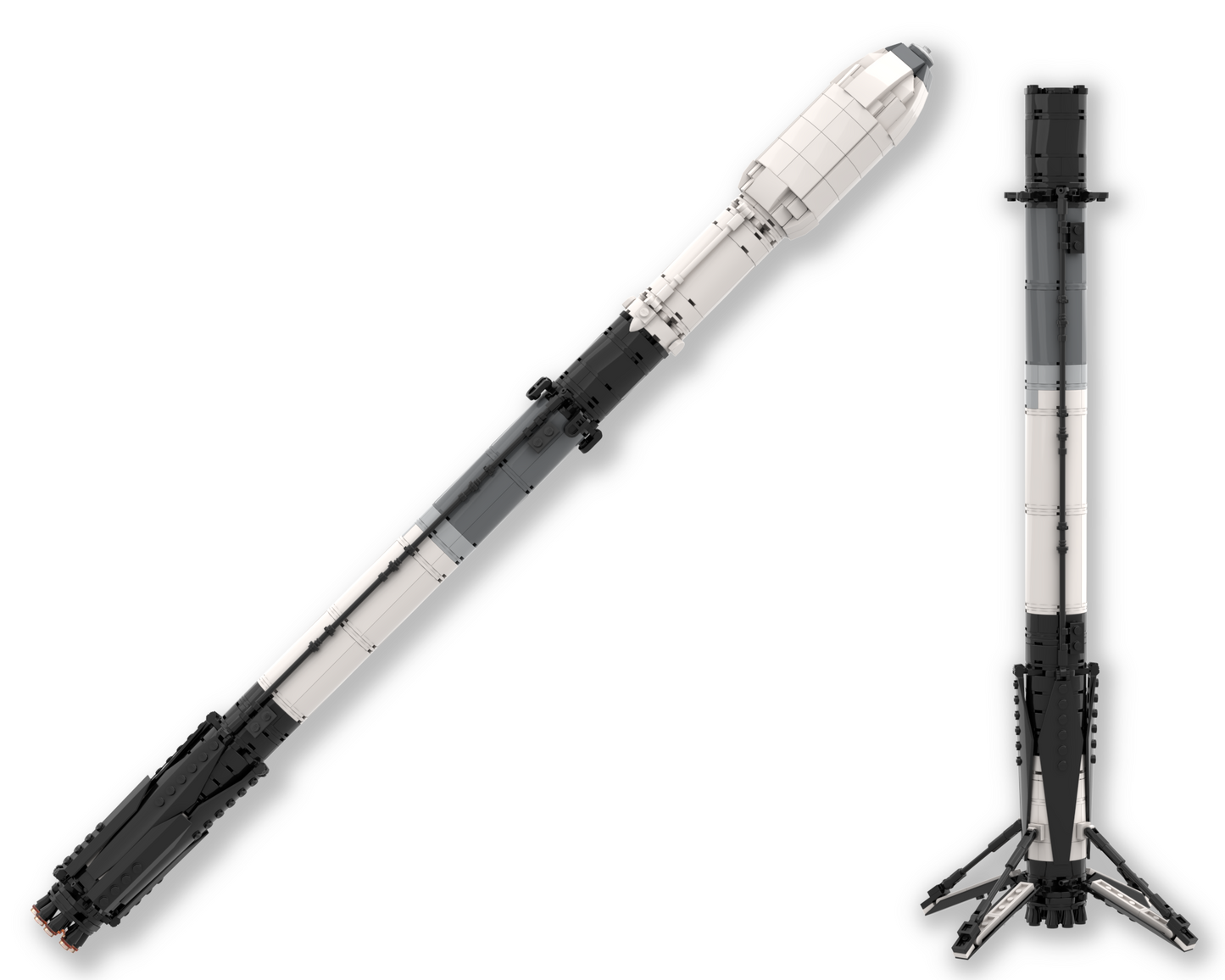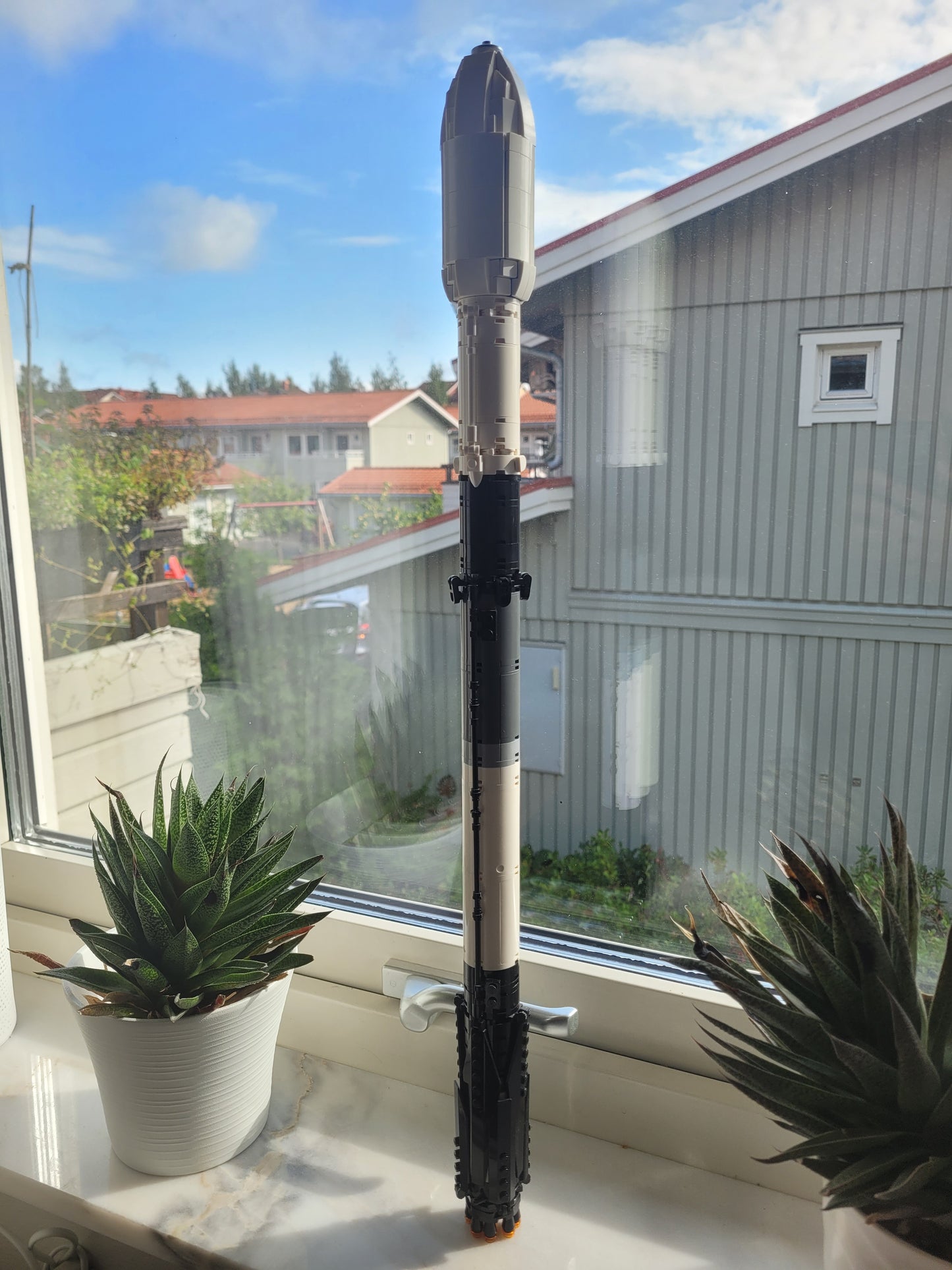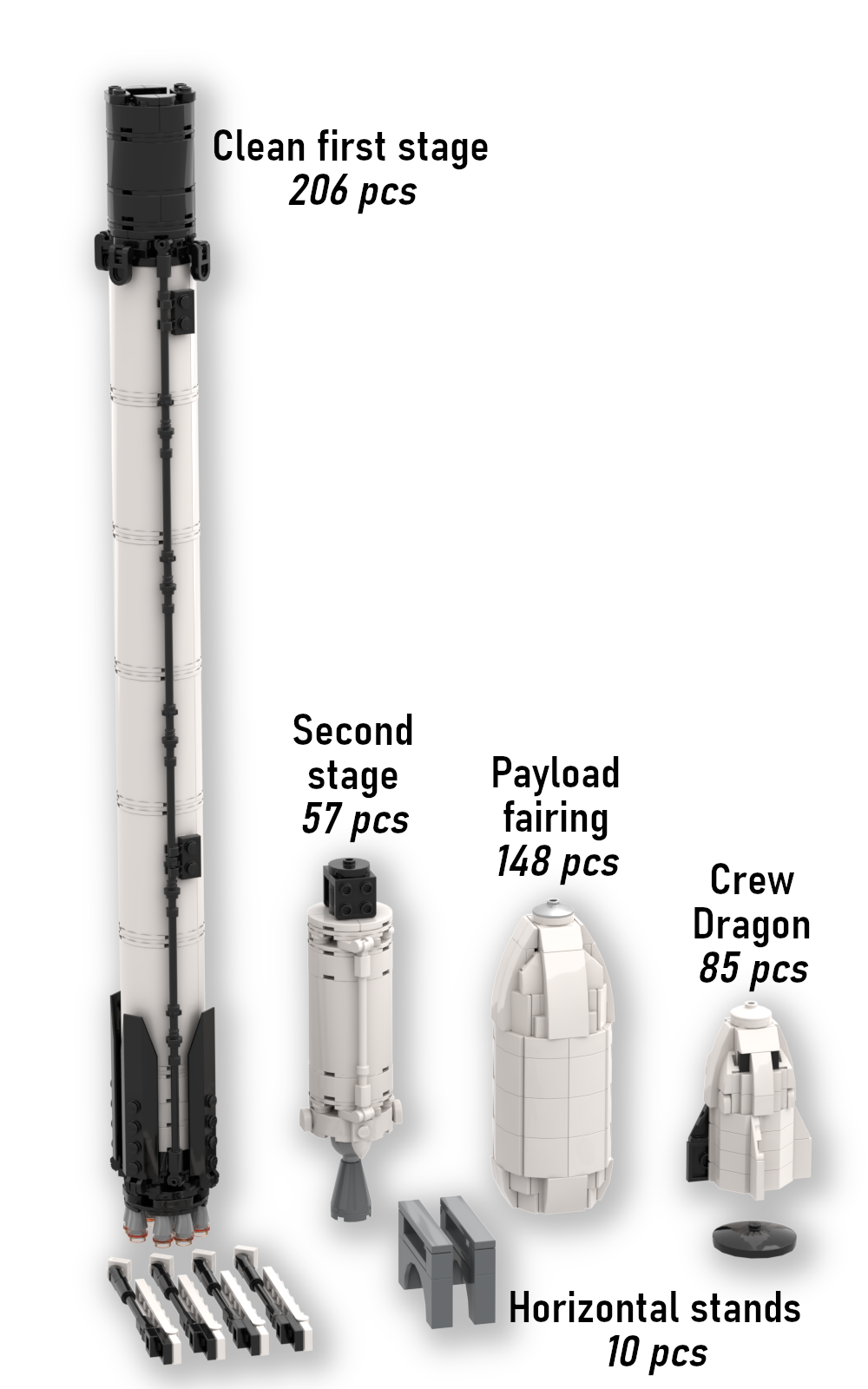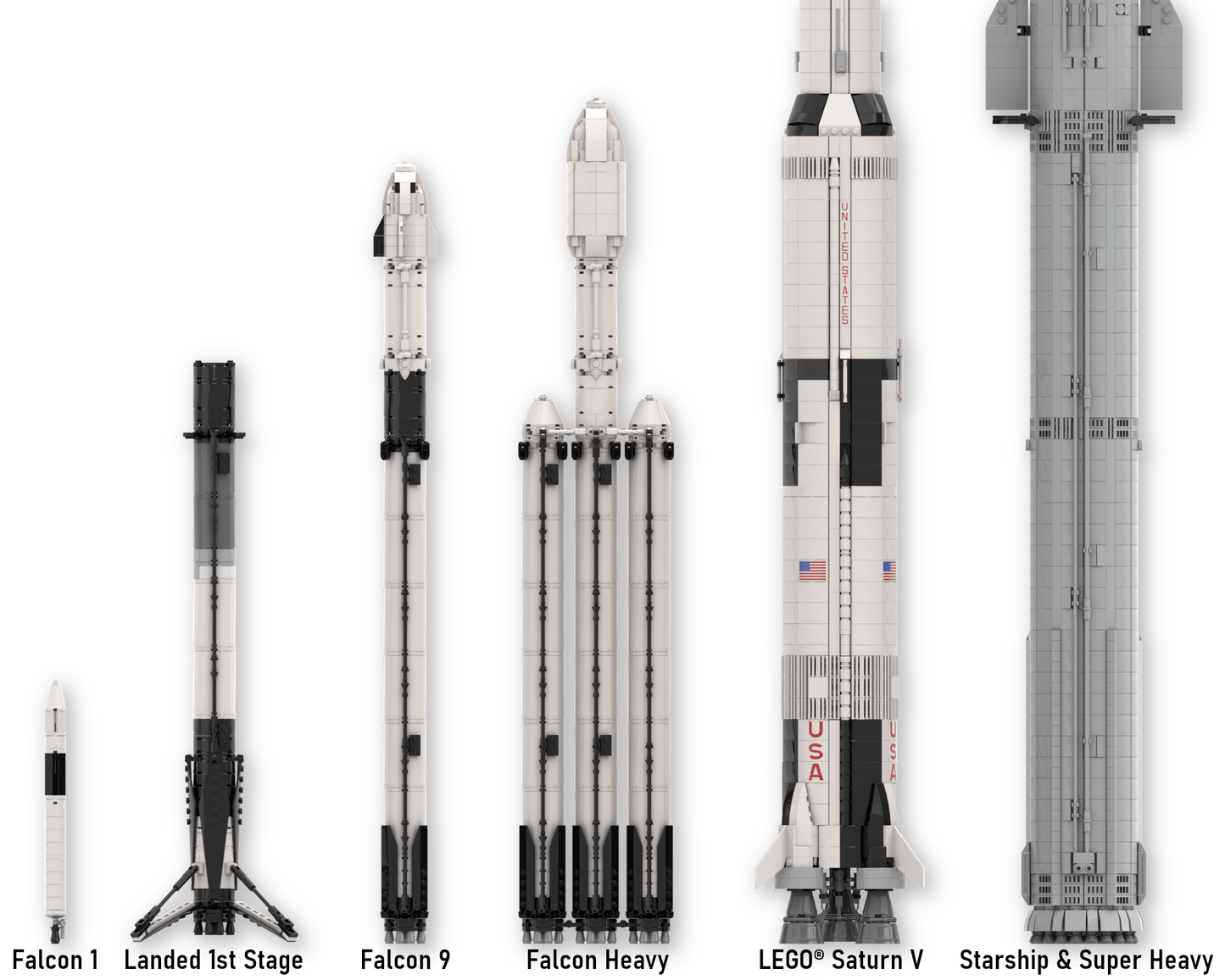 Falcon 9 has been the most launched rocket in the world for the past few years (a record 60 launches in 2022) and is so far the only orbital-class rocket in the world with the ability to propulsively land and reuse the first stage. Since its first flight in 2010 Falcon 9 has gone through various upgrades, with Block 5 being the latest and currently flying iteration. It has flown over 260 times with only two failures and has landed 195 out of 200 attempts so far (97.5%). Falcon 9 mostly launches government and commercial satellites, including the company's own Starlink internet satellites, as well as both cargo and crew to the ISS.
Thank you for checking out my Falcon 9 model and if you are considering buying the instructions I am especially grateful to you for supporting my work and directly enabling me to continue producing more designs in the future!
Collapsible content
Product specifications

Pieces and price:

This default model contains 506 pieces, costing approximately $55 (prices on Bricklink vary depending on region and current parts availability), see the buying guide in the section below.

Dimensions:

64 cm x 5 cm x 5 cm
25 in x 2 in x 2 in

With the landing legs extended the base measures 14 cm (5.5 in) x 14 cm (5.5 in).
How to buy the pieces

I recommend buying the pieces required for the model through Bricklink.com, which is the largest online marketplace for LEGO® parts sellers.

There are other alternatives, like the official LEGO® Pick a Brick site, but they rarely have all the required pieces and it's often more expensive there.

The process to buy from Bricklink is easier than it seems, and is explained thoroughly in this step-by-step guide to help you:


After buying the product, you need to download the folder named "Part lists" and unzip it.
Choose the part lists you want to buy using the guide in the "Variants" tab below.
Next go to Bricklink.com and create an account, it's very easy to set up.
Hover over the "Want" tab in the top right corner and click "Upload" or follow this LINK.
Click on the right "Upload BrickLink XML format" tab and copy and paste the text from your chosen parts list to the text box. You can "Add to" the default wanted list or a new one it from future orders. Either way, upload all the current part lists to the same wanted list to order all the pieces at the same time. Then click the blue "Proceed to verify items" button.
Repeat step 4-5 for each part list you want to order.
Optional step if you only want new pieces and as a consequence pay a little bit more: Select all the pieces and change their "Condition" to "New" (needs to be repeated for each page). The default option gives you a price around the estimate and will include both new and used bricks.
Next click the green "Buy All" button and then adjust the settings to your preference. For lower shipping costs, I recommend beginning by choosing your region/country first and only change it if the pieces aren't available there.
Once that's done, click the blue "Auto-select" button, uncheck the box in the pop-up and click "Start".
This will give you a list of stores whose orders together will include all of the pieces in your wanted list. Confirm that all the pieces are included by clicking the "Wanted Items" tab to the left and control that there aren't any pieces left there.
If you are happy with the selection and price, click "Create carts", followed by "Checkout" for each individual store and buy the pieces!
(If you are not happy with the price or if you're missing any pieces, you can click "Remove All" and redo the auto-selection with different settings)

If you're having any issues with ordering your pieces, don't hesitate to send us a message through the "Contact us" tab in the menu and we'll do out best to help!
Variants

This product comes in four different variants, which you'll all have access to with the single purchase. Use these explanations to determine which instructions to use and parts you need to buy to build your desired variant:

1. Default Falcon 9 [506 pcs] - builds the clean Falcon 9 model with both the fairing and Crew Dragon included.

2. Falcon 9 with only Crew Dragon [358 pcs] - builds the clean Falcon 9 with only Crew Dragon (inspired by Muscovite Sandwich's Crew Dragon) and no payload fairing.

3. Falcon 9 with flight-proven first stage [559 pcs] - builds a flight-proven Falcon 9 with a sooty first stage (inspired by TheBrickFrontier's Falcon 9 Sooty Booster) and reused fairing, instead of the clean counterparts in the default inventory.

4. Only flight-proven first stage [260 pcs] - builds only the flight-proven first stage to be displayed separately.
Almost like real
A truly beautiful and detailed model of the current workhorse of US space travel!
Perhaps the graphics in the construction instructions could be made a little clearer, as it happened to me that I mixed up a few parts in one or two places. Otherwise there is nothing to complain about here from my side!
Best regards from ESA's main donor country 👍🏻